Why You Need to Have the Best LinkedIn Email Extractor Software?
Why You Need to Have the Best LinkedIn Phone Extractor Software?
To Know watch the video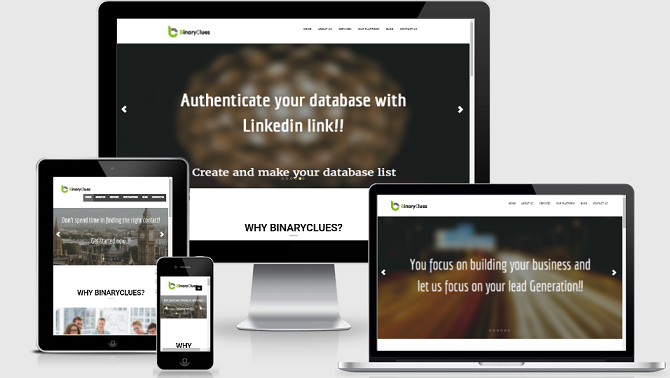 BinaryClues customers range from start-ups and fast-growing companies to well-established institutions; from marketing teams in small and medium-sized businesses to independent teams in large enterprise corporations. The ways they use BinaryClues to achieve their marketing objectives vary widely – the common denominator is the success they achieve.


BinaryClues is a leading vendor for India, Europe, Africa and Middle East B2B List Provider to top Blue chips companies of the world and provides best of the US B2B Email List.


You are looking to build a customize list of your industry and facing issues trying to figure out how can you build the list. Just don't worry, let us know.

Not sure which database vendor to select for your lead generation problems. We are here to help you solve your worries.


We make customers, sit back and relax and then we let our AI Algorithm start the work for you for creating your customized database list with min. 90% accuracy

We not only give you just the database but also help you define your target audience and market which would there by increase your buyer reach & create new market for you using the Industry database list of BinaryClues.

Every month we have been selling 25,000+ contacts/email list to our customer and building niche list which is Linkedin verified.


We have helped several of our clients expand their businesses to new countries by offering them various CXO List of CEO, CMO, CIO, CTO, email list.

Healthcare List, Information Technology List, Retail List, Banking List, Insurance List, Manufacturing List, E-commerce List, etc all list can be made available to you easily as per your email marketing campaigns. We list also available for different countries like US b2b email database list, India b2b email database list, Europe b2b email database list, Canada b2b email database list, UAE b2b email database list, Saudi Arabia b2b email database list, Australia b2b email database list, Singapore b2b email database list, and many more given here.
Binary Clues Partners Zoho

Binary Clues has ample of experience in Zoho CRM and implementation services. Being the most trustworthy Zoho Implementation Services provider, we enable our potential clients to initiate the complete automation process of customer and business management.
Besides this, we also help you to take the leverage of our Zoho consulting partners and an experienced CRM team so that you get to benefit from our services and improve your sales. Moreover, we deploy customized services and help you get instant results.
The Zoho consulting partners provide first-level customer support and help build a strong relationship with your consumers. The services that we offer to our valuable clients are given below;
Binary Clues Partners Freshworks
We are the best Freshworks partners to provide the best integrating solutions for the customers and transforming the way of improving the business function. Our technology partners provide the best solutions and have great experience deploying them based upon customers' requirements.
Freshdesk software is one of the best help desk systems and customer service solutions that simplify customer services for your team members. The software also helps in providing excellent customer experience to the teammates.
With this workflow software, business individuals can focus on delivering the most reliable customer services. The best part is the software can be customized and automated as per your business needs.
Binary Clues Partners LeadSquared



LeadSquared Sales Execution CRM is a cloud-based marketing automation tool that helps manage customer relationships for all types of businesses. It is the best CRM system that targets the needs of the industries such as e-commerce, finance, marketing, education, health and wellness, real estate, hospitality, and software. Binary Clues is the prominent LeadSquared mobile CRM software provider that helps you to nurture your leads easily.
Binary Clues Partners Brightcove



In the present digital era, videos have been the most efficient way to connect with your audience. Whether you are an individual or an enterprise, the way you present your videos define you.To cater to your needs, Binary Clues have partnered with Brightcove, one of the biggest and most trusted video experts globally.
Binary Clues Partners Knowlarity



We have a long list of customers of US & other geographies clients like Dell, Tech Mahindra, Cvent , Dealavo, Enerparc, Nevpro, Stag Software, Wolters Klowers, Studio 52, Knowlarity, TailorTab and many more clients at the link above

| | | | |
| --- | --- | --- | --- |
|   |   |   |   |
| | | | |
For immediate inquiry call us at +91- 9513392455, +91- 9555378437